20.06.2022
New Research Report: Disrupter Quintant for Next-Generation Telecom Operations and Business Support Systems (NG-TOBS)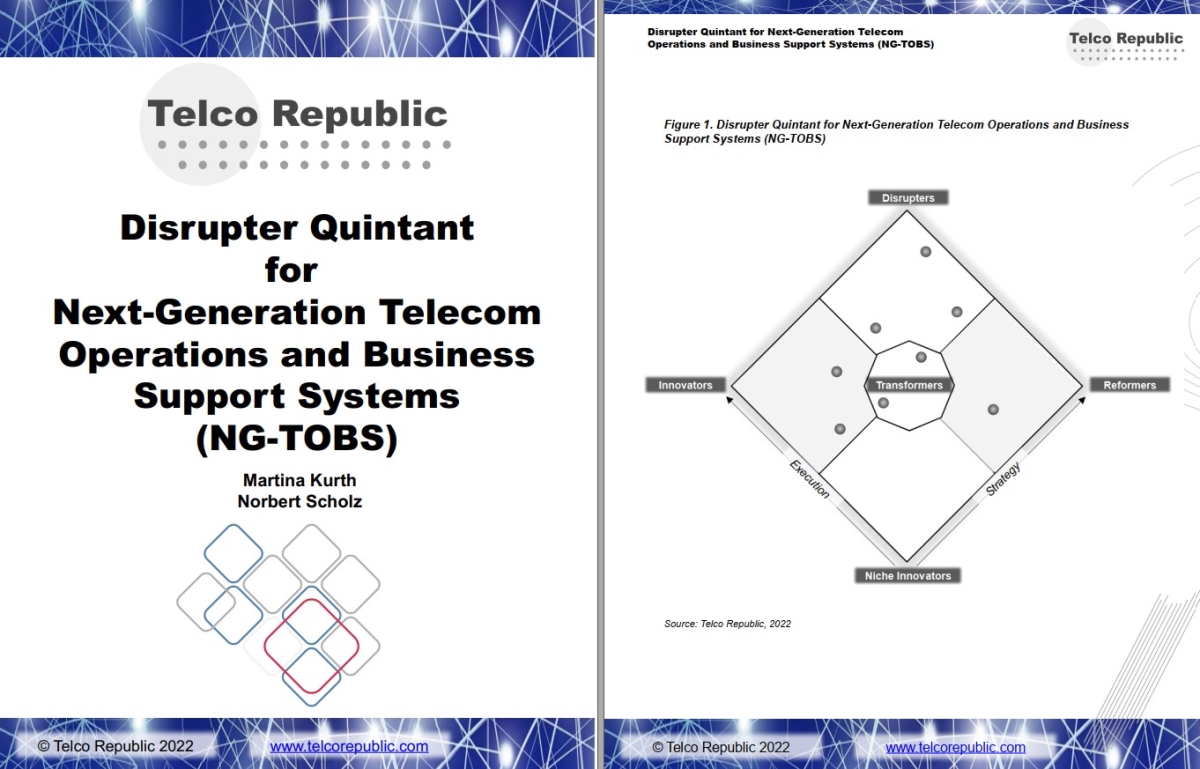 von Martina Kurth (CEO), Norbert Scholz
Telco Republic AG, a new research and advisory firm, just launched the first Disrupter Quintant for Next-Generation Telecom Operations and Business Support Systems (NG-TOBS).
The 43-page report fills a white space in covering this important market that has been neglected by mainstream industry reporting and analysis.
Telco Republic has performed a rigorous and in-depth selection, evaluation and analysis of eight leading NG-TOBS vendors. The result is a deep dive into these vendors' ability to disrupt the traditional operations support systems (OSS) and business support systems (BSS) markets by enabling communications service providers (CSPs) to transition from traditional OSS and BSS to NG-TOBS infrastructures, composed of horizontally architected, cognitive, cloud-based operational and business infrastructure as well as monetization and customer management orchestration.
The Disrupter Quintant assesses vendors across five "quintants" and two dimension to provide guidance to CSPs how to navigate this emerging market, and how to make the best technology buying decisions.
The following are some of the key findings:
NG-TOBS vendors predominantly innovate internally, or they get pulled into CSP innovation initiatives, rather than establishing relationships with startups.
New NG-TOBS products and solutions are cloud-native but CSPs are slow to migrate to the public cloud. Most implementations are still on premise or in the private cloud.
The role of hyperscalers will be a game changer for the evolution of CSPs' operating models and hence disrupt the way NG-TOBS is delivered.

For more details, contact Telco Republic at:
martina.kurth@telcorepublic.com
norbert.scholz@telcorepublic.com
info@telcorepublic.com
For case studies or implementation best practice examples, please book an inquiry with us.
Do you
need help?
We will be glad to advise you!