15.05.2023
New Telco Software Market Share Report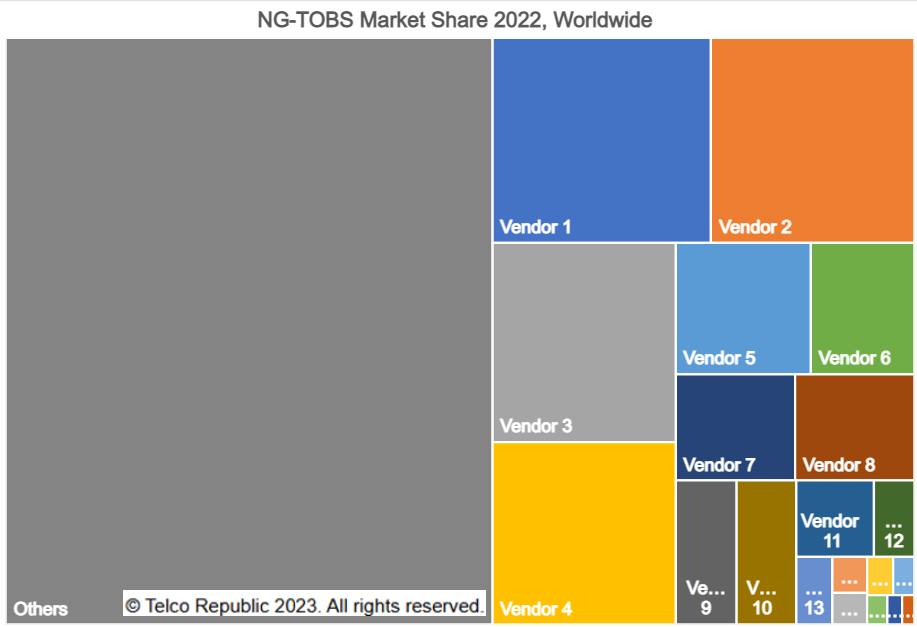 von Martina Kurth (CEO), Norbert Scholz
Telco Republic released its 2022 Market Share for Next-Generation Telecom Operations and Business Support Systems (NG-TOBS) also known as Operations Support Systems (OSS) and Business Support Systems (BSS).
The report presents software and services vendor revenue and market share data in 17 categories.
The following are among the key findings:
The global vendor landscape remains diversified.
Worldwide, none of the NG-TOBS vendors managed to garner more than 9% market share in 2022.
Five NG-TOBS vendors had more than 15% market share in one of the 17 categories covered in this report.
OSS Resource Orchestration is relatively concentrated, with the top 5 vendors commanding over 40% market share.
OSS Service Orchestration is more diversified, with the top 5 vendors commanding around 30% market share.
NG-TOBS in the Public Cloud is relatively concentrated, with the top 5 vendors commanding over 40% market share, although the total market size remains smaller than that for on-premise and hybrid cloud deployments.
Geographically, Latin America and the Middle East/Africa regions are most concentrated, while Western Europe is the least concentrated.
Compared to last year's NG-TOBS Market Share report, about one-half of the vendors covered increased their revenue, while the other half saw a decline.
Telco Republic believes that the NG-TOBS market will remain diversified and highly competitive in the future.
CSPs are seeking innovation around 5G, cloud and business-to-business (B2B) requirements.
The incumbent vendors are adding new functionalities into their product suites through in-house development or by acquisitions. At the same time, upstart innovators are seizing the opportunity to bring products to market in a nimble and agile fashion.
2022 saw its share of M&A as shown in Table 1.
At the same time, an even larger number of new companies entered the market, as we showed in our research note series "Emerging and Disruptive Vendors in Telecom Operations."
For details, contact us by clicking on this link.
Table 1. Representative NG-TOBS Mergers and Acquisitions in 2022
| | |
| --- | --- |
| Acquirer | Acquisition Target |
| Amdocs | DevOpsGroup |
| Amdocs | Roam Digital |
| AsiaInfo Holdings | iResearch Consulting |
| Ciena | Benu Networks |
| Circles Global | Pareteum [MVNE Business] |
| Elisa Polystar | Cardinality |
| Elisa Polystar | Frinx |
| Google Cloud | MobiledgeX |
| Lumine Group | TOMIA |
| Qualcomm | Cellwize |
| Rakuten Symphony | Robin.io |
| Viavi Solutions | CanGo Networks |
Do you
need help?
We will be glad to advise you!