15.03.2022
Telco Innovation Takes Center Stage at MWC 2022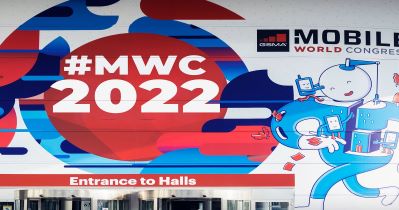 Over 60,000 attendees convened in-person from around the world to discuss the evolution of mobile telecommunications. Above all, innovation to drive new revenue streams took center stage in all discussions, particularly unlocking the potential of vertical industries.
The common theme was how technology such as AI, cloud, 5G, robotics and big data will transform businesses and change the way society interact moving forward. Eventually the digital and connected economy represents an unprecedented potential for telcos to drive new revenue streams.
However, adequate innovation investments will be pivotal to capitalize on these bespoke market changes. The shift toward becoming a digital-native CSP will trigger innovation spanning all areas of telco operations: Connectivity as well as business model innovation have to be intertwined with the operations and business support systems to facilitate this paradigm shift.
Telco Republic met with numerous senior industry executives of leading market players on the CSP and vendor and system integrator side to discuss innovation focus areas. Highlights of our discussions were:
Vodafone is aligning business and technology transformation and aims to establish new KPIs in the digital economy.
Swisscom is exploring new vertical industry ecosystems and business models to drive B2B revenue streams to new heights.
Andorra Telecom is venturing into a full telco SaaS-based operating model, forcing significant OPEX/CAPEX reductions and efficiency improvements.
On the telco software vendor side:
Oracle is among the cloud-native early movers to promote a new telco operations and monetization paradigm in the light of 5G, IoT and edge.
Netcracker announced the launch of a digital platform encompassing a new breed of OSS/BSS, that will take intelligent telco automation to a new innovation level. Moreover, the company's strong transformation and legacy integration methodology advocates technology change, particularly in heterogeneous multi-technology domain environments.
Approaching the telco market from the IT infrastructure/enterprise angle:
HPE is taking a bold position as an edge-to-cloud platform-as-a-service company. Being known as a robust technology player, HPE is well positioned in the emerging markets for 5G edge operations and service orchestration, especially with tier-1 CSPs and operator groups seeking to reap multi-domain as-a-service benefits.
SIs such Atos are taking a transformation leadership role, providing a partner ecosystem blueprint to facilitate the formation of new successful solution delivery value chains, including OSS/BSS. No single player will solve the complexity issues of bespoke technologies such as 5G, IoT or edge.
Even in meetings in meetings with the traditional telco network equipment vendors Nokia and Ericsson we witnessed the shift from network-driven to cloud-native, data-driven topics to cater to new digital business models, such as AI/big data, digital monetization, multi-cloud and of course 5G, IoT and network slicing operations and monetization.
AWS is driving a significant innovation push, shaking up conventional telco solution value chains and delivery models, for example with its launch of 5G private networks, Cloud WAN and Outposts. AWS is partnering with most OSS/BSS vendors who deliver their traditional stacks as cloud-enabled service delivery on top of AWS, and has gained considerable traction during the past two years. For example, the following vendors have publicly announced OSS and BSS solutions on AWS: BNET (Bahrain) – Beyond Now; CBTS (Canada) – CSG International; Deutsche Telekom – Netcracker; Lebara (Denmark, France, Germany, Netherlands, U.K.) – Amdocs; Liberty Global (Netherlands) – Nokia; Telenor Connexion – Ericsson; Videtron (Canada) – Etiya.
Telco Republic predicts that by 2027, 80% of CSPs in Western Europe, North America and Asia Pacific will have moved at least two of their OSS and BSS solutions into the public cloud.
For case studies or implementation best practice examples, please book an inquiry with us.
Do you
need help?
We will be glad to advise you!